Access Control
Contact us today for a free security needs assessment with one of our expert technicians.
Control and Manage Access to Your Home or Facility
At Hometech Innovations, LLC, we design and install professional access control solutions that safeguard , homeowners, residential buildings and businesses of all sizes. An access control system creates a secure environment for family members, residents, students, or employees, enabling them to get where they need to go at the right time, while preventing unauthorized intruders from entering. All of our professional access control solutions are designed to maximize safety, user convenience, and workflow optimization.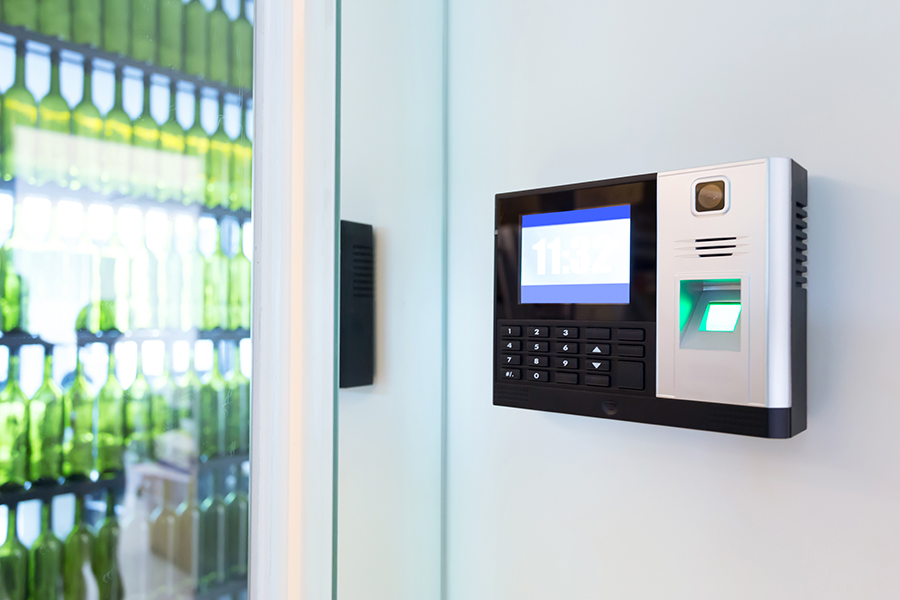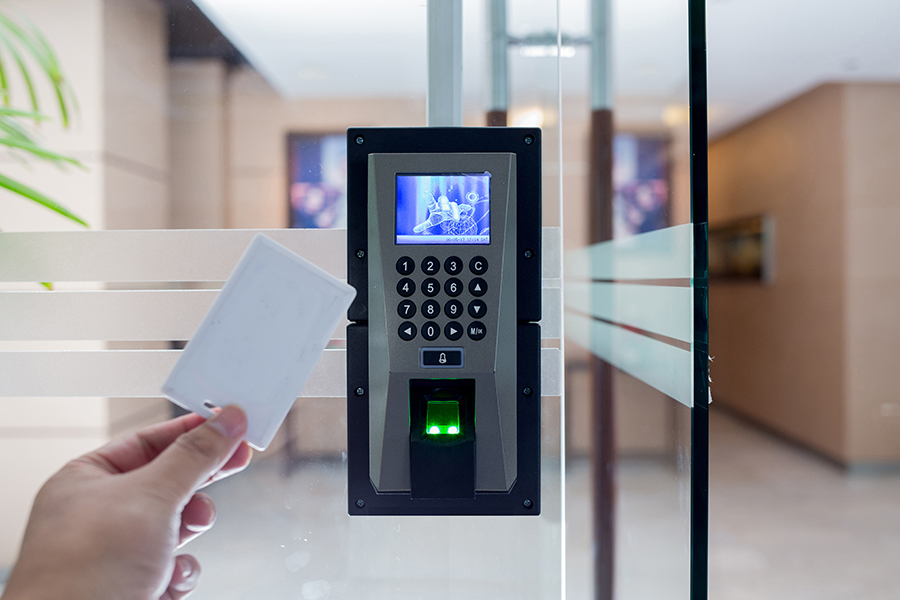 Access Control Benefits
Investing in access control technology is one of the most reliable ways to protect your people, buildings and assets. A custom designed access control system from Hometech Innovations, LLC provides important benefits for any size facility, including:
Safe work environment for employees, visitors and contractors
24/7/365 security for apartment building or dormitory residents
Protection of high security areas, sensitive data, networks and equipment
Safe and reliable building egress in the event of an emergency
Scalable infrastructure that can grow according to your security needs
Access Control Features
Beyond creating a safe environment, access control systems provide your security team with scalability, flexibility, and actionable data via a host of powerful features, including:
Simple administration via iOS and Android mobile devices
Easy permissions, card, cardholder and door lock schedule management
Customizable activity/exception reporting
System health monitoring and alerts
Unlimited door licensing
Integration with video surveillance systems, HR databases and more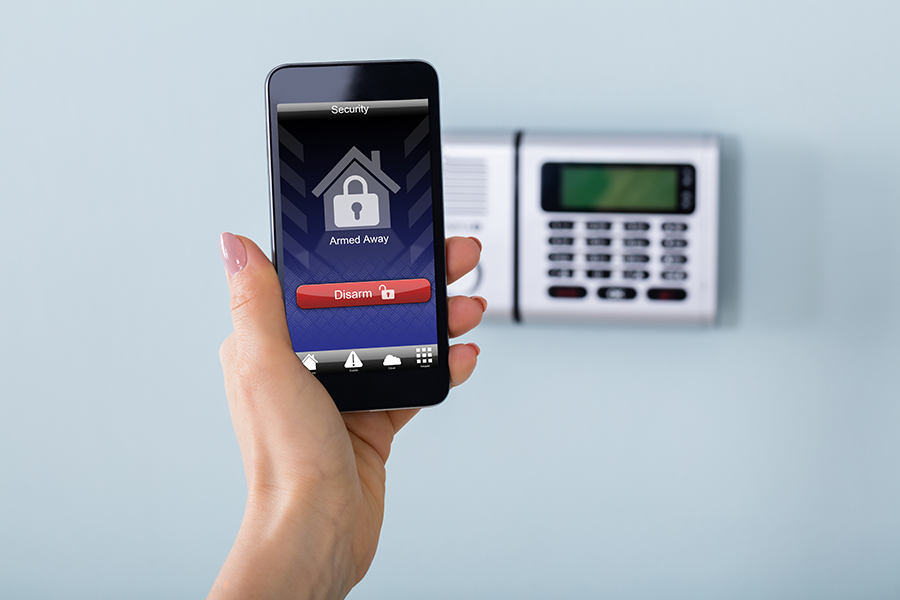 Secure Your Home or Business with Hometech Innovations, LLC
Learn how we can customize a security solution for your , home or business. Contact us today for a no-obligation security assessment.
What is Access Control?
An electronic access control system uses technology to eliminate the security risks posed by mechanical locks and keys. The system grants access based on a credential that is presented, usually an electronic "key card" that is swiped or held over a card reader. When access is granted, the door is unlocked for a predetermined time, and the transaction is recorded in the system's event log. If the access credential is not valid and access is refused, the door remains locked and the attempted access event is recorded. The access control system also monitors the door, and will sound an alarm if the door is forced open, or held open for too long after being unlocked.
Improve Security at Home
Many people consider access control systems to be beneficial only in a business environment – but access control can be a useful security tool in the home as well. You can utilize access control solutions to help keep the main entry and exit points of your home secure. And you can even tailor an access control system to control various parts of your home. For example, if you have a safe in your closet that you would like to restrict access to, installing an access control terminal in that room can be beneficial. Similarly, if there are rooms of your home that you'd want to keep children out of, such as your home office, access control terminals can help here as well.
Additionally, access control systems could make it easy for a friend or neighbor who is watching your home for you when you go out of town. Instead of needing to give them a key to your home and worrying about them duplicating the key, you can give them their own temporary access code, which automatically expires when you return home from your business trip or vacation, at a predetermined time that you specify.
Eliminate Unauthorized Access
Preventing unauthorized access is the most significant benefit of an access control system. Unauthorized access gained through unsecured entry points is a significant problem for businesses, because it puts your employees at risk of physical harm and your assets and inventory at risk of theft. You can use an access control system to prevent intruders from entering your place of business, or to prevent your employees from entering sensitive areas of the building. Even if you feel like you live in a safe area or that you can trust your employees, you can never be too cautious. Working with Hometech Innovations, LLC to install even a basic access control system can go a long way toward protecting your business.
Improve Employee Safety and Productivity
By keeping unauthorized persons out, your employees will be much safer in your office, warehouse or any other facility. And they likely will feel much safer at your place of business, knowing that they are protected by a professional access control system. So your employees can focus on their job roles, without worrying about security risks caused by unauthorized entry
In addition, a professional access control solution can enable you to track employee whereabouts and movements, so that you can see how often they leave their workstation and where they're going. Employers may find that this can increase employee productivity.
Enhance Security for Sensitive Areas
There likely are areas of your facility that contain sensitive equipment, documents or data. As a business owner, you need to be particularly mindful of who has access to these areas. If the wrong person gets access to equipment or sensitive information, this can represent significant risk to your business – so it's best to be safe when it comes to protecting these critical areas. A professional access control system enables you to add or revoke access privileges to these areas for any employee, at any time. Consider installing access control in:
Human Resources Areas
Research Labs
Server Rooms
Records Rooms
Cash Offices
Product Development Areas
Activity Reporting
It's not possible to watch your surveillance footage 24/7, which is why Hometech Innovations, LLC's access control solutions offer detailed activity reporting. With these activity reports, you'll be able to see who entered and exited any specific door, at any point in time. Our solutions provide an activity log with access history and data backup, along with in-depth reporting on activity at all access points. Whether you only review this information periodically or are searching for a specific incident, the details are easy to find.
Remote and Mobile Access
We hear plenty of stories about , home and business owners who forgot to set their access control system before leaving their property, and then had to waste time returning to their residence or place of business to reset their system. That's why our access control solutions provide remote and mobile access options. This enables our clients to view their system's history and login via a web browser, tablet, or smartphone – from anywhere in the world. No matter if you're lying in bed late at night worried about whether something went wrong, or you just want to check in on your system while on a business trip, our remote and mobile access options have you covered.
Scalability and Flexibility
At Hometech Innovations, LLC, we understand that your business needs may change and grow in the future. That's why our access control systems are scalable and flexible, to grow with you no matter how large your operations get. We provide network IP-based access control solutions that give you the flexibility to add more doors or locations to your network as your security and business needs grow.
We Understand Access Control
When it comes to access control solutions, no job is too big or too small for Hometech Innovations, LLC. We can design a customized access control system for your home, residential facility or business, whether you need to protect a single entry point at one location, or hundreds of doors at multiple facilities. Our trained technicians can handle all of your access control needs, providing you with everything from control equipment to card readers to access management software to ongoing support. When working with Hometech Innovations, LLC, , home and business owners can get the peace of mind that they are protected by the latest access control technology.
Support for Installations of Any Size
We pride ourselves in delivering custom security solutions to business owners in the , area – offices, retail, warehouses, banks, schools, hospitals, and industrial facilities of all sizes. Whatever your access control needs are, we can deliver a customized solution that fits your application and your budget. Our trained technicians will visit your place of business and work with you to design an access control system that's tailored to your specifications.